About the Conference
This year we commemorate the 25th anniversary of the inscription of the Historic Centre of Prague on the UNESCO World Heritage List. This is a great reason to celebrate and look back, but primarily to look to the future. We believe that now is the right moment. The current dynamics of the development of the Czech society and its national economy creates an enormous pressure to change the structure of cities and changes their everyday life. Management of cities planning and development is very often not able to take these dramatic changes into account in time. Very complex and difficult situation is particularly in the touristy historical heart of Prague, but other historic cities both at home and in abroad face similar challenges, too. Therefore, it is most appropriate to create a platform where all interested parties could discuss domestic and foreign experiences and new trends, including how to respond to them. This anniversary is a welcomed impulse, let's take advantage of it and start this urgently needed discussion!
A wide range of institutions interested is undoubtedly reflected in the composition of the upcoming Conference program, which will cover both the discussions on how to protect historical parts of the city, as well as the possible ways how to revive the public space.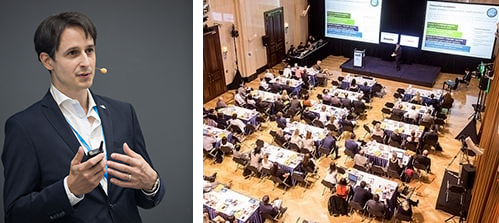 Prague – World Heritage City 2017
When? The conference takes place on 6 – 7 Dec 2017

Where? New Building of the National Museum, Prague 1

Who? The event is organized by the City of Prague Heritage Department, the Association for the New Town of Prague, the Prague Institute for Planning and Development, the Czech Technical University in Prague and the National Museum.

The conference is held under the patronage of:
Adriana Krnáčová, Mayor of the City of Prague, Naděžda Goryczková, General Director of the National Heritage Institute, Petr Konvalinka, Rector of the Czech Technical University in Prague, Daniel Herman, Czech Minister of Culture and Karla Šlechtová, Czech Minister of Regional Development. The Blue Events company is responsible for organizing the Conference.
For whom?
The Conference is based on the idea that there is no future without history. Therefore not only representatives of the professional public and state administration in the field of heritage preservation, but also those who are involved in the management and planning of the future of Prague and other major historic towns are invited to attend the Conference. Investors and experts from different areas that support the development of cities, and last but not least the media are also invited.